"new culture.. a new way to be."

With Vogue calling the brand's iconic crescent moon design the "most popular design of 2020," the Paris-based brand Marie Serre has officially penetrated the pop culture stratosphere. Even before being validated by the prestigious magazine, many celebrities have already been spotted wearing the brand. This includes Beyoncé, Dua Lipa, Kylie Jenner, and many others. In less than five years, Marie Serre has gathered a massive cult following by fusing classic French couture, sportswear references, and their ecofuturist vision.
Marie Serre's crescent moon emblem and one-of-a-kind collections both rose through the efforts of its eponymous founder. Hailing from Brive-la-Gaillarde, France, Serre studied in Marseille before attending La Cambre in Belgium. She graduated with high honors in the renowned art school in 2016. Her breakthrough graduation show, "Radical Call for Love", caught the attention of Dover Street Market and The Broken Arm. This has then led her to fruitful internships with Matthieu Blazy at Maison Margiela, Sarah Burton at Alexander McQueen, and Raf Simons at Dior.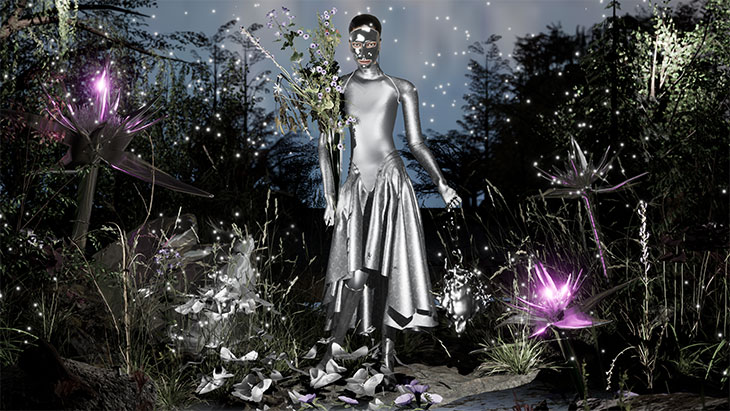 While working as a designer for Balenciaga in Paris, she began working on her own line. In 2017, she won the LVMH Prize for Young Fashion Designers. She debuted her maiden work in February 2018, meeting high critical praise. Since her brilliant start, her brand has been stocked at SSENSE, Nordstrom, Dover High Market, and other international markets.

Her success is by no means unprecedented. Despite being a newcomer in the scene, the Marine Serre brand has become associated with daring innovation and sustainability. About half of her collection has been upcycled from vintage and 'regenerated' (as Serre calls them) materials.
For instance, for her Spring Summer 2018 "Cornerstones" collection, she played with conceptually 'supple' yet functional designs, working on leggings, denim jackets, and high-waisted jeans. This speculative 'Futurewear' aimed to put a twist on these staples while infusing them with athleticwear references that followers have come to associate with the brand.

At the core of Marie Serre's design philosophy is a radical desire to never compromise. In an interview with SSENSE, she shared that she started working on "Radical Call for Love" after the Paris and Brussels attacks. Asking herself "What should a designer do today?" after such a horrible event, Serre decided not just to "make skirts" but to be "contemporary." This meant designing hybrid cuts, developing silhouettes that incorporate historical garments, athletic wear, and couture.


Serre also has a background in tennis, playing the game from 3 years old until she was 16. Her sports background is a recurring reference in her work. It has also taught her to "take one ball at a time" and keep focused.
This philosophy reflects on the brand's meticulous production process. It usually starts by searching for possible materials in second-hand or dead-stock stores. Once the material is selected, it is perused by their in-house upcycling team who are then tasked with coming up with solutions to incorporate the material into the collection. Each material goes through its own process.
Her relentless spirit has also influenced her usage of second-hand products and the brand's sustainable values. In mixing a wide variety of cultural references and sources of material, Marie Serre invents a "new culture.. a new way to be." The brand is aware that a forward-thinking imagination requires thinking beyond current modes of production, including the unsustainable commercial fashion status quo.


Marie Serre's unique vision can be best seen in their jaw-dropping videos, most of which are the result of epic collaborations between artists from different mediums. For instance, the video for the brand's Spring-Summer 2021 collection portrays a post-apocalyptic world full of mutants in "survivalist chic." The promotional video, titled "Amor Fati," is directed by Sacha Barbin and Ryan Doubiago and is starred by French artist Juliet Merie and Iranian-Dutch singer Sevdaliza. The video's enthralling ambiance has been given an eerie soundtrack by Pierre Rousseau.





Indeed, Marie Serre's edgy dystopian attitude rhymes with their eco-conscious and experimentalist philosophy. By underlining the human being's power to "change their mode of being," Marie Serre brings back the power of self-determination to individuals. Rather than letting powerful market forces dictate our sense of style, the brand inspires to us take things on our own. This also gives us more control over the future. Thus, what appears to be a bleak vision in Marie Serre's videos is actually an empowering message.

The young couture house is just starting and they are gearing up for more. Recently, Marie Serre opened four lines: Borderline for Underwear, White Line for classic Marine Serre Garderobe, Gold Line for experiments, Red Line for red-carpet, made-to-measure Couture. The brand's crescent moon is on the rise and shows no signs of stopping.