"Sometimes even a 5x10cm leftover fabric found its place in a garment"
Julie Bourgeois
Tata Christiane is a fashion and costume label founded in 2007 by Julie Bourgeois and Hanrigabriel.
Tata Christiane blurs the lines between art and fashion and she balances on the border of bad taste and street punk.
As a viewer you cannot help, but to be intrigued by the absurd sense of beauty that she exposes you to.
The underlying philosophy of the brand is zero waste and upcycling materials and samples, which has been retrieved from everywhere from textile suppliers to Parisian haute couture artists.


From the age of 10 Julie Bourgeois has worked with clothing and costumes and has always viewed the magic of the craftsmanship as something to treasure in the making of clothes.
All the garments are handmade making sure that the techniques and creative process is not lost.
Tata Christiane is about feeling the joy in dressing up instead of dressing the same.
There is never a dull moment with Tata Christiane and you are always curious to see what's next.
What made you choose fashion as you industry? Has it always been a part of your life?
I never studied fashion, but I have always been working on something. My mom taught me how to work with a hook when I was 10 and my grandmother offered me my first sewing machine when I was 15. I was always doing clothes, costumes. So I don't feel I chose an industry as much as I chose a craftsmanship.
I have always been inspired by the very highly qualified craftsmen that works in the fashion field. There is a magic about it.
That is why, when I had to make a decision: "Do I chose to do an external production and manage it or do I continue to produce by myself and continue to work by hand and create what I really want? I choose the second option."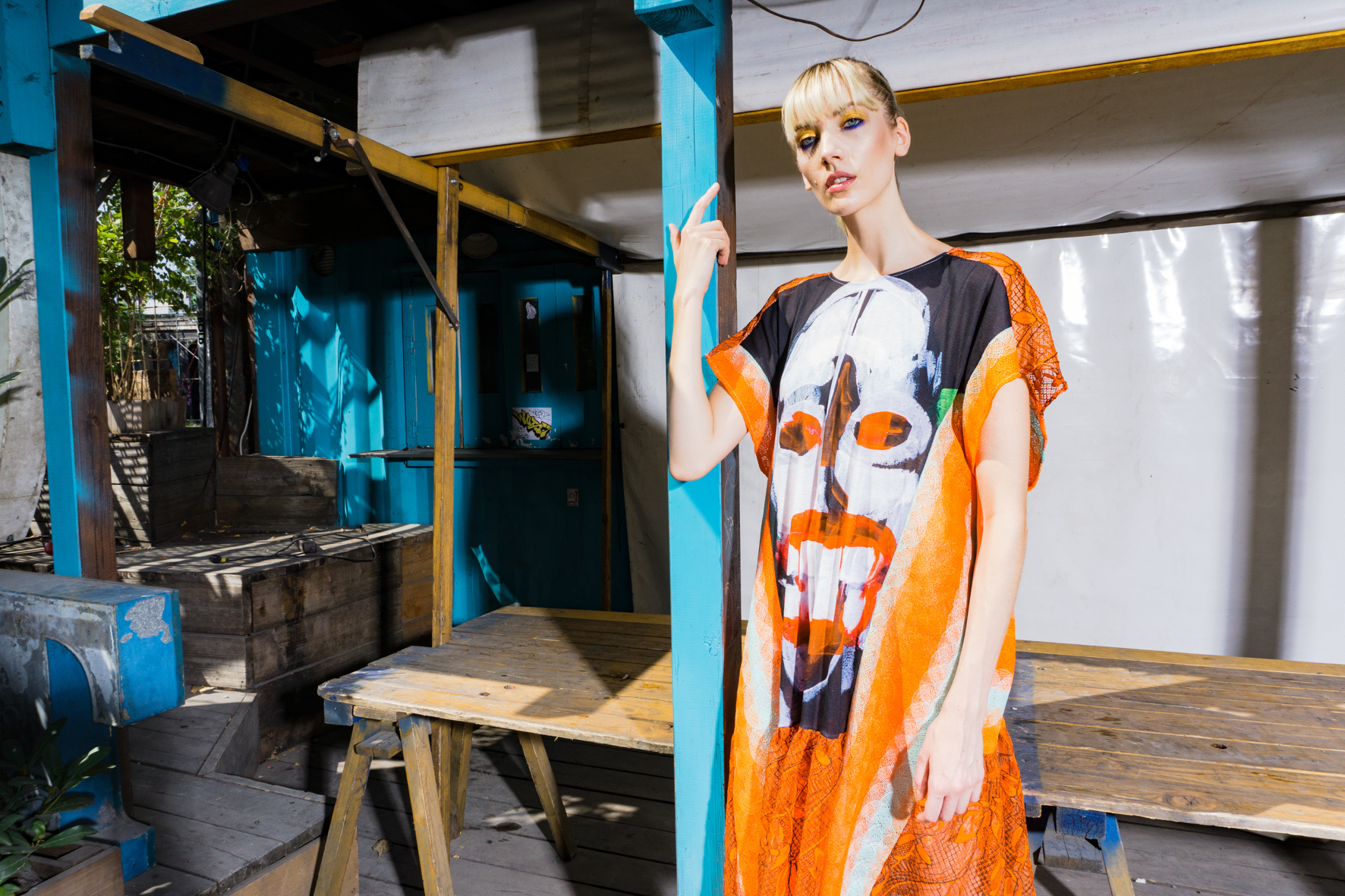 How do you source the materials for your collections? Do you make most or all of your clothing from recycled materials or only chosen pieces?
For the 2 seasonal collections Spring/Summer and Fall/Winter, we look for producers in Europe and we collaborate to make small productions.
Recently I found a provider of textiles where I have no problems with a minimum order. Because they just have a stock that I can choose from. So it opens the freedom of creation and I use what is already there. And I don't have much left overs.
Beside those 2 annual collections, Spring/Summer and Fall/Winter we produce between 500 and 1000 uniques pieces during the year that is made from the left over of the collections ( we produce very little waste). We work a lot with patchwork techniques in order to use the really small leftover pieces of fabric. Sometimes even a 5x10cm leftover fabric found its place in a garment.
Besides reducing the waste in production, we also have 2 other advantages:
First of all, it is always a really creative process because there is always a new combination which forces us to improvise a lot and this is very valurable.
Secondly, we provide our customers with a unique piece, a garment that is one of a kind.


We have a collaboration with a knitting artist from Paris, Cecile Feichenfeldt, who usually produces on Haute Couture level which is too expensive for us to produce under normal circumstances.
But because she likes our label so much, she regularly sends us try out samples for us to use in our creations. We ones had the discussion if she should throw them away or let us use them. So I am able to make very unique garments using these high quality knitting or Haute Couture samples.

Besides the theatrical and extravagant profile that your brand has, do you also see yourself as a slow fashion brand?
I think the extravagant profile of our brand has exactly something to do with slow fashion in a way. Slow fashion is for me to consume less, but it is also a way to approach fashion in order to find your own individuality and use your own imagination when choosing your wardrobe. Furthermore the fashion industry could work as a much better provider in more decent jobs then it does now.


I think the market is over-flooded with basics, tons of t-shirts or denim pants that looks the same. It would be great if more smaller labels would produce smaller quantities, but try to fit the taste of different people. When we started our label we thought about going basic to be more commercial, but the fact is that I had absolutely no pleasure or fun or creativity to make basics. The inspiration was just not there. So I kept on doing the fun, arty and playful pieces and it turned out that people loved them!
Not all, but enough people. So we have our place here.